Mid-South Honor Band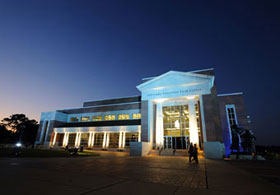 The 41st Annual Mid-South Honor Band will be held on the beautiful Ole Miss campus February 21-23, 2019.  We are pleased to welcome high school band students and directors to our university for this fantastic event!  The Honor Band Weekend will feature performances by the UM Symphonic Band, UM Wind Ensemble, UM Jazz Band, and the Grand Concert featuring the 2019 Honor Bands!  Nominations are now open and will close on December 14, 2018.  Please get your nominations in soon!
We are thrilled to have Col. Bruce Gilkes, USAF, Retired of San Antonio, TX and Jeff West, Director of Bands at Senatobia High School to serve as our clinicians this year!  We are looking forward to a great weekend at Ole Miss!
High school band directors are encouraged to nominate a maximum of seven 9th through 12th grade students for the Mid-South Honor Band Clinic, and the clinic will be limited to an instrumentation of approximately 180 students.  Membership will be determined on the basis of high school band directors' recommendation and instrumentation needed.  For the clinic to be a positive event for all involved, please nominate those that are at a level musically to participate in a clinic environment and are good citizens.  The registration fee for each student is $55.00, which covers medals for each participating student, and all other administrative expenses with the exceptions of meals and housing.  We are asking that each individual band director take care of the housing of his/her own band students during the honor band clinic.  Please do not submit the registration fee until notification of acceptance is received.
Results of the nomination process will be posted on our website no later than January 11, 2019.  The 41st Annual Ole Miss Mid-South Honor Band Clinic on the University of Mississippi campus in Oxford will provide your outstanding students with a rewarding and educational experience. You have our best wishes for a successful academic year. Please contact us if we at Ole Miss can ever be of service to you.
For questions, please contact us at 662-915-7390 or email umband@olemiss.edu